Where do you grab an early morning coffee or breaky in Hua Hin?
One thing I've always found difficult when arriving in an unfamiliar town in Thailand is finding a good coffee early in the morning. Often when travelling around the country, I pack a few "3 in 1" coffee packs from 7/11 to make sure I can get a coffee in the early morning, however this is far from what I'd call a "good coffee". A lot of cafe's serving a decent coffee you'll find open around 9am or even 10am, which for me, is much too late – I've already had 2 coffees by then.
Anyway, I figured I'd put together a list of 10 cafe's in Hua Hin that open on or before 8am. The top 5 cafe's in the list not only open early, but are also in my list of favourites. This doesn't mean the bottom 5 aren't any good, but I've picked them mainly because they open early.
Righto! So first and favourite on the list is…
Velo Cafe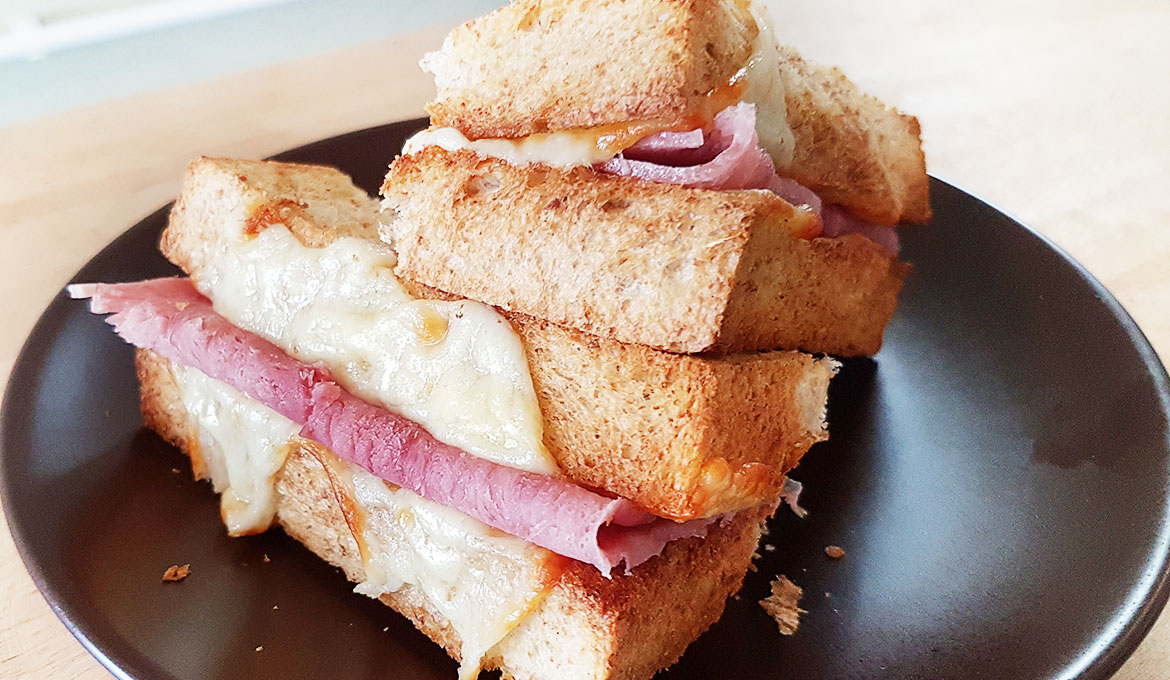 Velo cafe is my favourite on this list – they not only open early, but also make one of the best coffee's you'll find in Hua Hin. The cafe is ran by two brothers (Ben and Bank), who always keep things operating smoothly and consistently, so there's no surprises. The coffee I get there today, is the same I got a year ago, and that coffee was the best in Hua Hin.
They also make some AMAZING toasted sandwiches, and although they've got some pretty interesting versions, the basic "Ham and Cheese" toasty seems to a popular favourite here and I have to say, it's not your standard toasted ham and cheese sandwich – you'll have to try it to find out.
Opening Hours: 7:30am – 5:30pm (closed on Thursday)
Address: 21, 43 Naebkehardt Rd, Hua Hin, Hua Hin District, Prachuap Khiri Khan 77110
Black Monster Coffee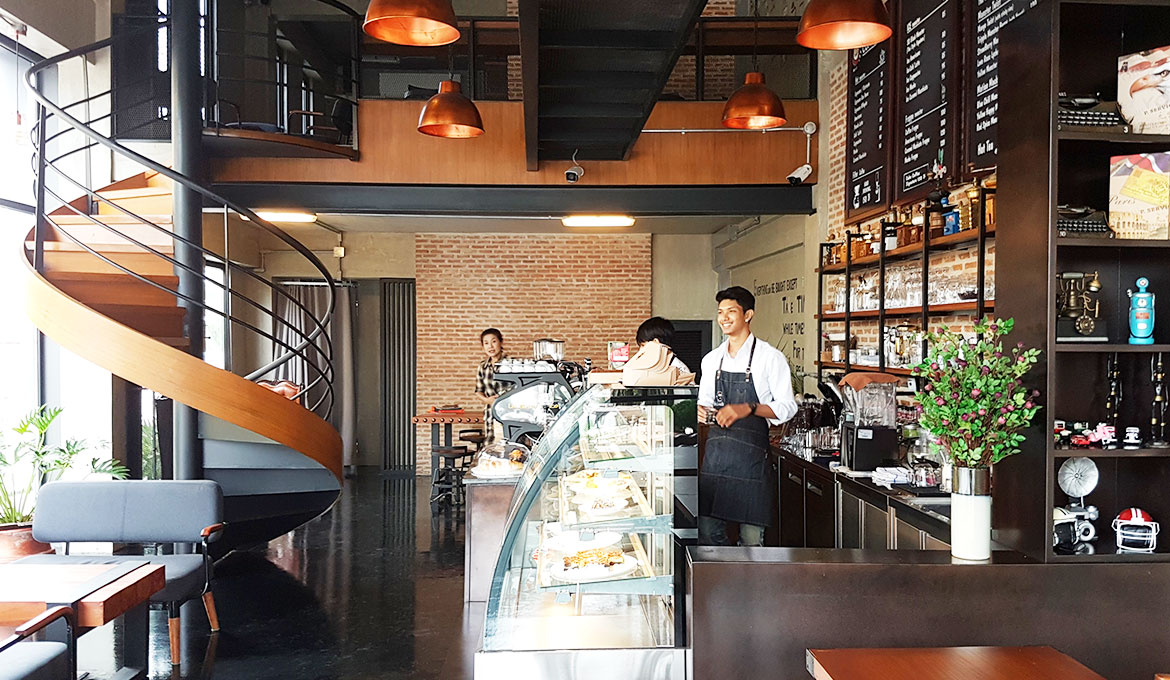 Black monster coffee is another one of my favourites, and not too far from Velo Cafe (above). What's good about this place is the amount of space they have available and the quality coffee. They have a bottom and top floor with a heap of seating to choose from and good sized tables to either sit and have a meal, setup your laptop, or just sip away on a good coffee. The coffee menu will be familiar to a lot of the tourists with the popular "piccolo latte" on the menu and other favourites such as the cappuccino and latte.
Opening Hours: 8:00am – 8:00pm
Address: 45, 11/34 Soi Hua Hin 19 Hua Hin, Hua Hin District, Prachuap Khiri Khan 77110
Sea Harmony Eco Cafe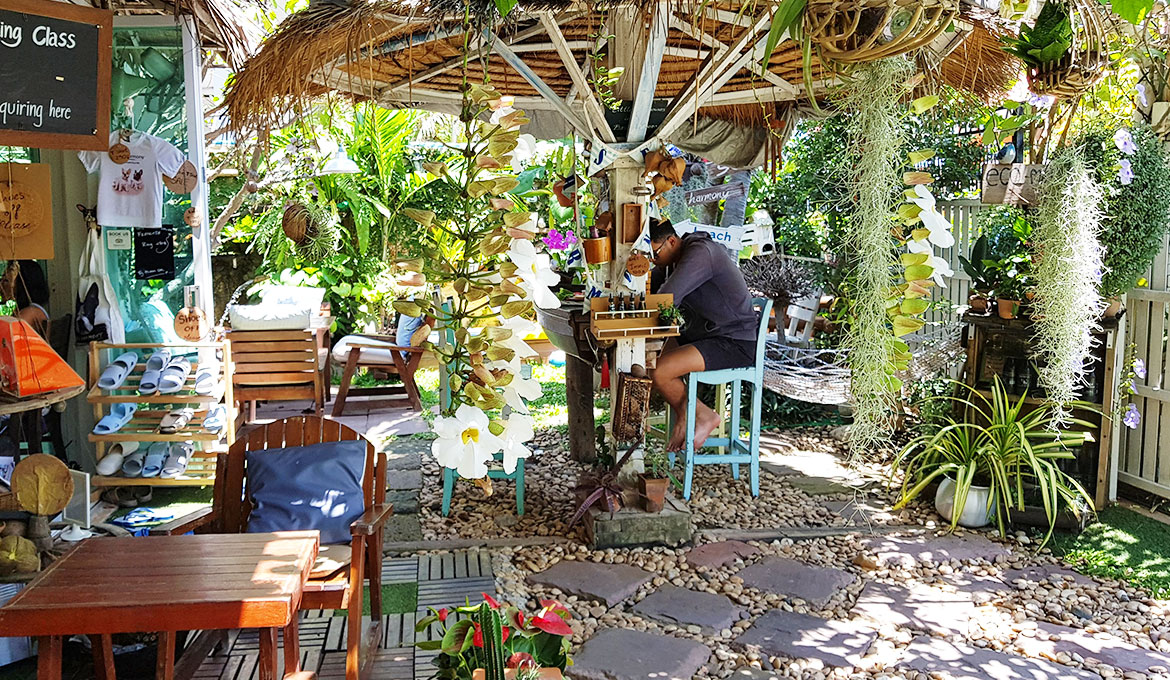 If you're staying in the Khao Takiab, this is a MUST visit. At this time of the morning, it's got the perfect vibe with it's quiet "Garden of Eden" type feel to the place. The coffee is not as good as Velo or Black Monster, but it's still good and I do come here regularly for their coffee. They have two indoor areas, one with table and chairs and the other with a couple of sofas. The outdoor area is really peaceful and has a very organic, earthy feel to it. With it's vines winding around the outside of the cafe and plants hanging all around, it's quite unique. You'll probably also be tempted to try one of their fresh juices or smoothies while you're there as well – I always am. They have a great selection of food as well, including a good western all day breakfast menu and a number of Thai dishes.
Opening Hours: 8:00am – 6:00pm (closed on Wednesday)
Address: Takiab 6, Takiab village, Hua Hin, Hua Hin District, Prachuap Khiri Khan 77110
Ob Oon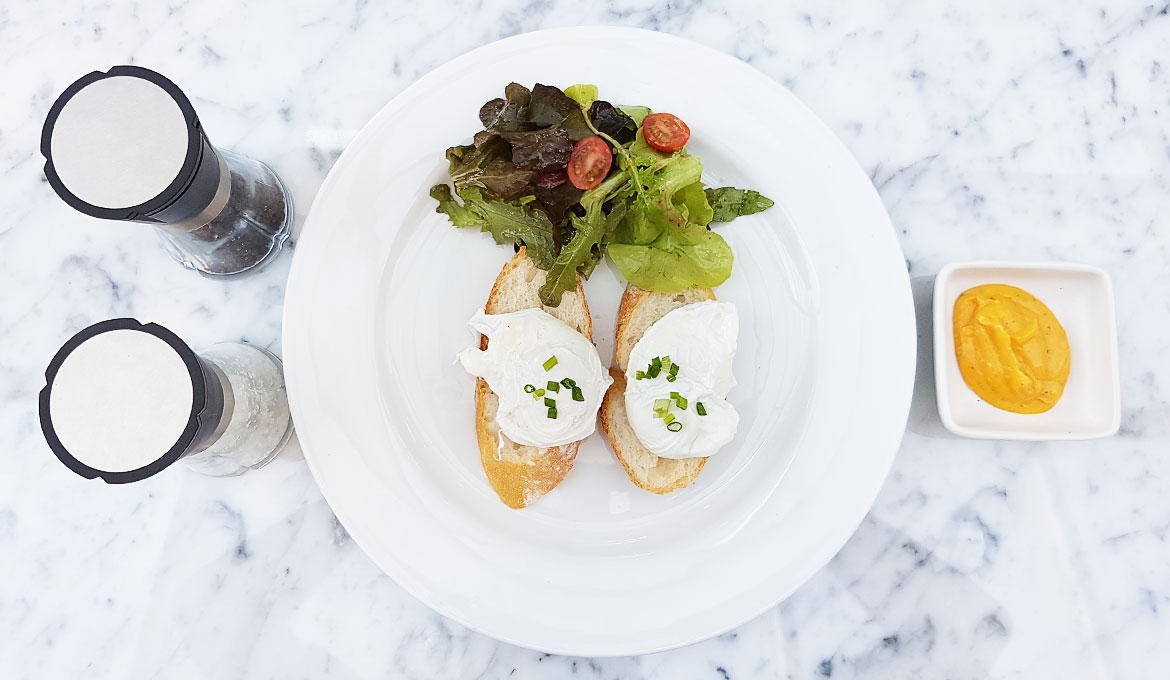 Now here's probably one for the early birds – one of the earliest opening places that serves incredible food. OK, the coffee is a little average in my opinion, but it has a great large and spacious dining area – well two actually, and a bakery on site. This bakery/cafe/restaurant has a small front dining area with about 4-5 tables, and is attached to the main bakery which was once Ob Oon bakery. Recently they underwent some renovations and attached a MUCH large dining area out the back and also introduced a new menu with an AMAZING selection of western dishes to choose from including some great breakfasts! The coffee is OK, but nothing special and it is around 100 baht mark, so if I were only after a coffee, I probably wouldn't come here (unless it was 7am), however for a coffee and a little something to eat as well – I'd easily swing by here. It's probably worth noting that sometimes this place can be a little busy in the morning, as it is part owned by the hotel (Hotel Putahracsa) and their buffet breakfast is held in the main large dining area, it doesn't bother me, but thought I'd mention it – you can also chose to sit down in the smaller area at the front of the bakery if you wanted to avoid the business.
Opening Hours: 7:00am – 6:00pm
Address: 4/56 Naebkehardt Rd, Tambon Hua Hin, Amphoe Hua Hin, Chang Wat Prachuap Khiri Khan 77110
The Ritza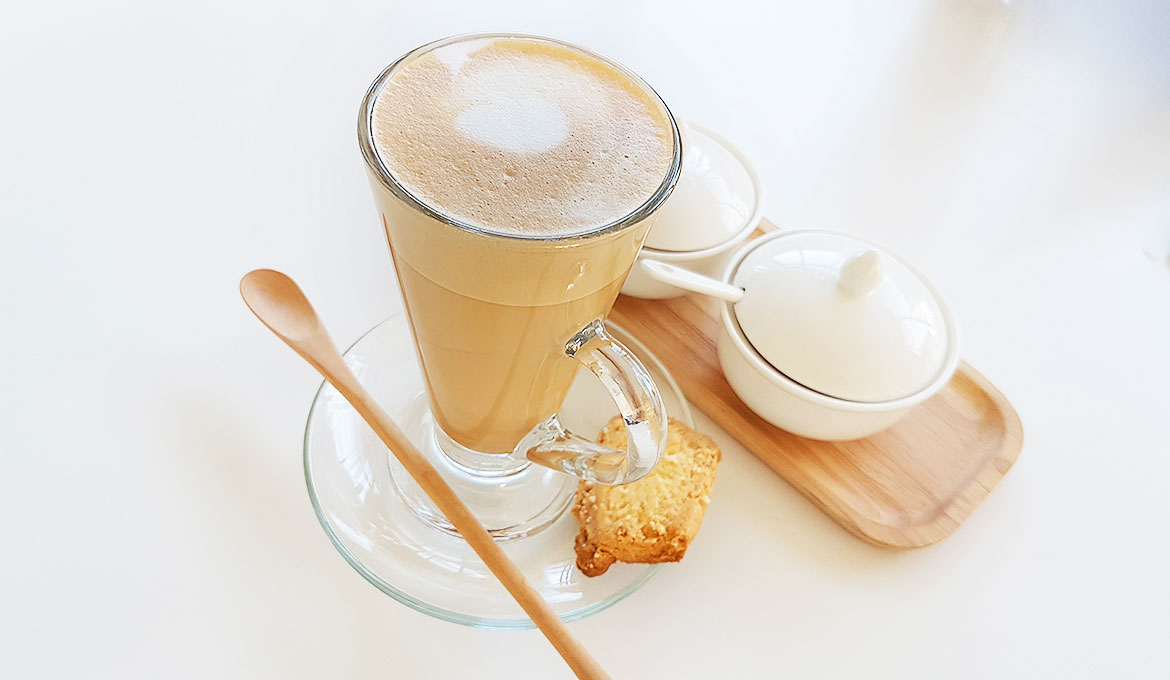 The Ritza, previously called "Andreanna's Bread Cafe" has good opening hours and sits in the nice Sunset Plaza just after you turn off from Phetkhasem road heading to Kaho Takiab. Offering breads, pastries, cakes and a good variety of Western food, this place is often more than just a coffee stop. They do make a pretty good coffee here, and with their onsite bakery they make some freshly baked sweets and other goodies to go down with it.
The Ritza has a quite a large dining area and a good number seats and sofas to choose from. In fact they have different types of seating for all occasions, whether you're needing a large table to dine and drink, a small table with cushioned chairs (to feel a little more comfy), or sofas with a "lounge room" type coffee table to make yourself right at home and stretch your legs out. I've been visiting here since they first opened and always happy with the quality of food and coffee from this place, and obviously the fact they open in time for my morning coffee.
Opening Hours: 7:30am – 10:00pm
Address: 155/16 Hua Ta Non, Kho Takiab, Hua Hin, Prachuap Khiri Khan 77110
Sarneys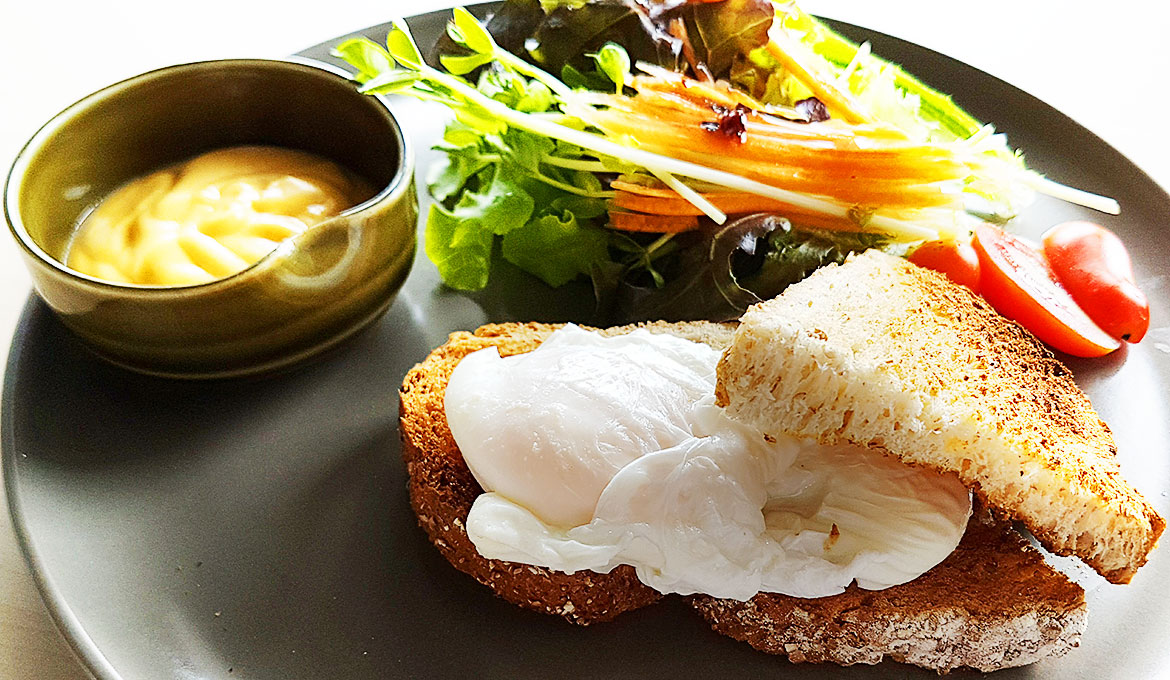 Gotta try the eggs on toast at this place! They have a good selection including a Salmon Eggs Benedict (Eggs Florentine) and your standard eggs on toast, but also offer an incredibly interesting range of other foods including Thai dishes which are cooked and presented in a way I don't see a lot of the other restaurants doing – interesting!
This place can be hard to find, because it's JUST after coming off of Phetkhasem road towards Khao Takiab and sits under a large condo/apartment block on the right, so it actually just looks like part of the apartment block. But don't let the small frontage turn you off, there's actually quite a bit of space in this cafe and they do make one of the best eggs benedict's I've had in Hua Hin. Just be aware, you only get 1 egg with a lot of the eggs (or egg) on toast meals, so I was a little shocked by this, as normally you'd always expect the Eggs Benedict or Florentine to come with two – so you may want to say "Ik Neng Khai Krap/Ka" (extra egg please).
Coffee???? Nothing brilliant but better than your average coffee shop – It's about 70 baht for a coffee here (from memory) so not pricey and nothing to complain about. For a pretty OK coffee at 70 baht, great dining area, and good WiFi, this place makes a great stop for me.
Opening Hours: 7:30am – 6:30pm (closed Wednesday)
Address: 129/88 Soi Mooban Nong Kae, Nong Kae, Hua Hin, Prachuap Khiri Khan 77110
Yummy Corner Cafe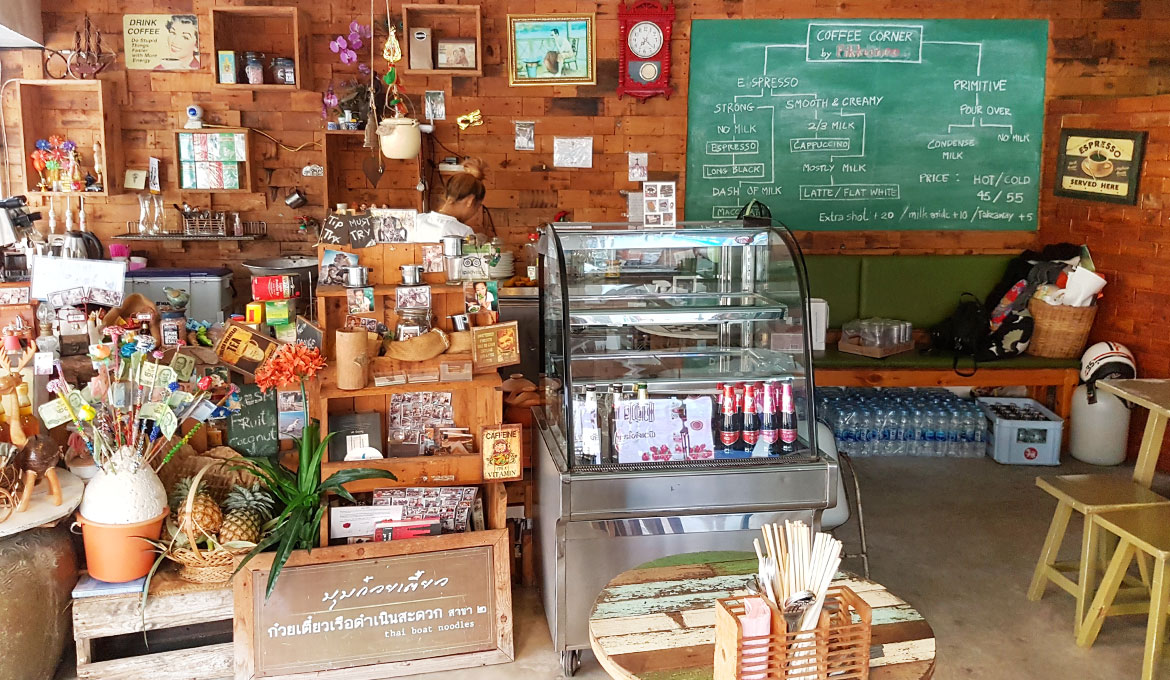 This one's been a favourite in the Khao Takiab area for a while, although it did used to open at 7:30am (maybe it was 7:00 – can't remember :-)), it does still open earlier than a lot of other places in the area and is fitted with a good coffee machine and has some good breakfast meals. This cute little cafe sits on a corner (hence the name) on the main street of Khao Takiab and is all opened up to let the nice fresh morning breeze through. It's a cozy little place with little ornaments and arty things hanging around the room and a very balmy/beachy feel to the place – like a beach shack!
The Thai food is pretty popular, although I've only had a few dishes from here (which were really good), I can't comment much on the food. The coffee however is not too bad, so if you're looking for your hot cappuccino or latte that you're familiar with back home, this is a good stop.
Opening Hours: 8:00am – 7:00pm (closed Sunday)
Address: Takiab 5, Hua Hin, Prachuap Khiri Khan 77110
The Coffee Club (Hua Hin City)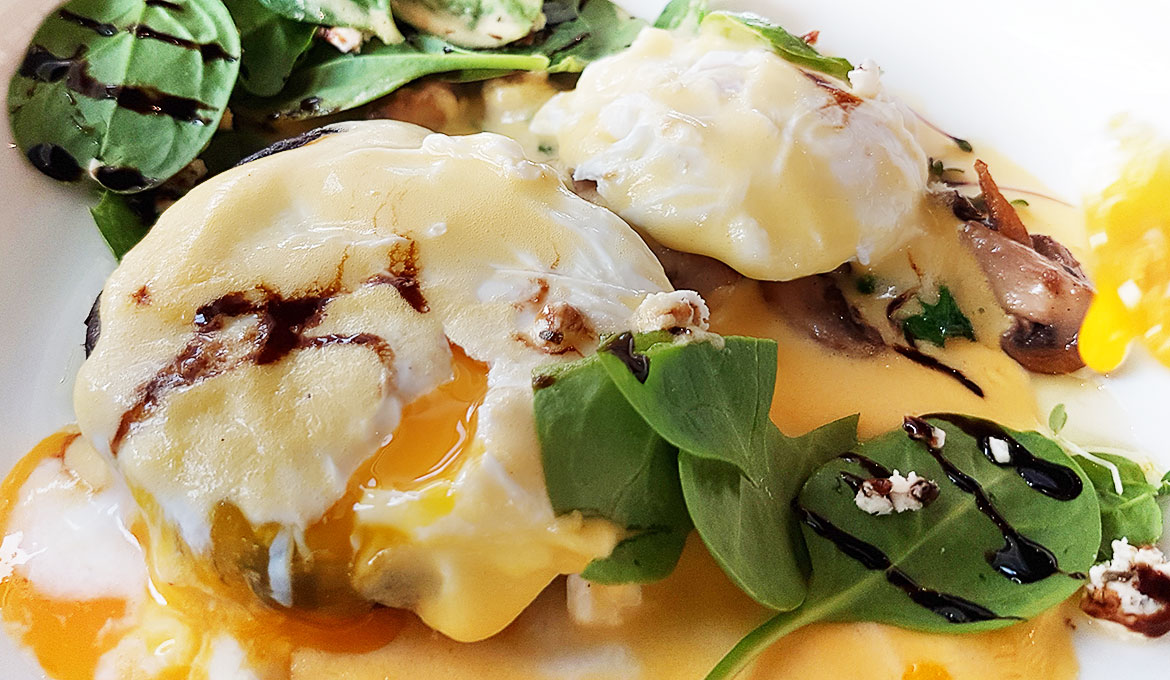 The Coffee Club is an Australian owned franchise and has a large number of cafe's around Thailand. Hua Hin has two Coffee Clubs, with this one sitting right in the heart of Hua Hin city (right next to the Hilton). It's a great location because you're right next to main Hua Hin beach, so you could either take a stroll along the beach before or after your morning breaky and coffee.
It's quite common in Australia for cafe's to be serving coffee from 7am, and quite a  few places even 6am, so they obviously understand it's common for a western traveler to be up and about early looking for a coffee to start the day – and it's a good move, because there's always people parsing through soon after they open!
The Coffee Club is a little pricier than most other cafe's, but they are always consistent with their coffee and food. Although their coffee isn't on my favourites list, it is a good coffee, and much similar to what a lot of other cafe's located in popular coffee culture cities such as Melbourne offer. The food is super! All their food is exceptional and much like you would expect from a quality restaurant – however the prices reflect this as well. It might seem a little on the high side because you're sitting in a cafe, but you pay for what you get, and you do get consistency, quality food and good service at the Coffee Club (well in my opinion anyway).
Opening Hours: 7:00am – 11:00pm (closed Sunday)
Address: Hilton Hua-Hin Resort & Spa, 33 Naresdamri Rd., Tambon Hua Hin, Hua-Hin, Prachuap Khiri Khan 77110
The Coffee Club (Bluport)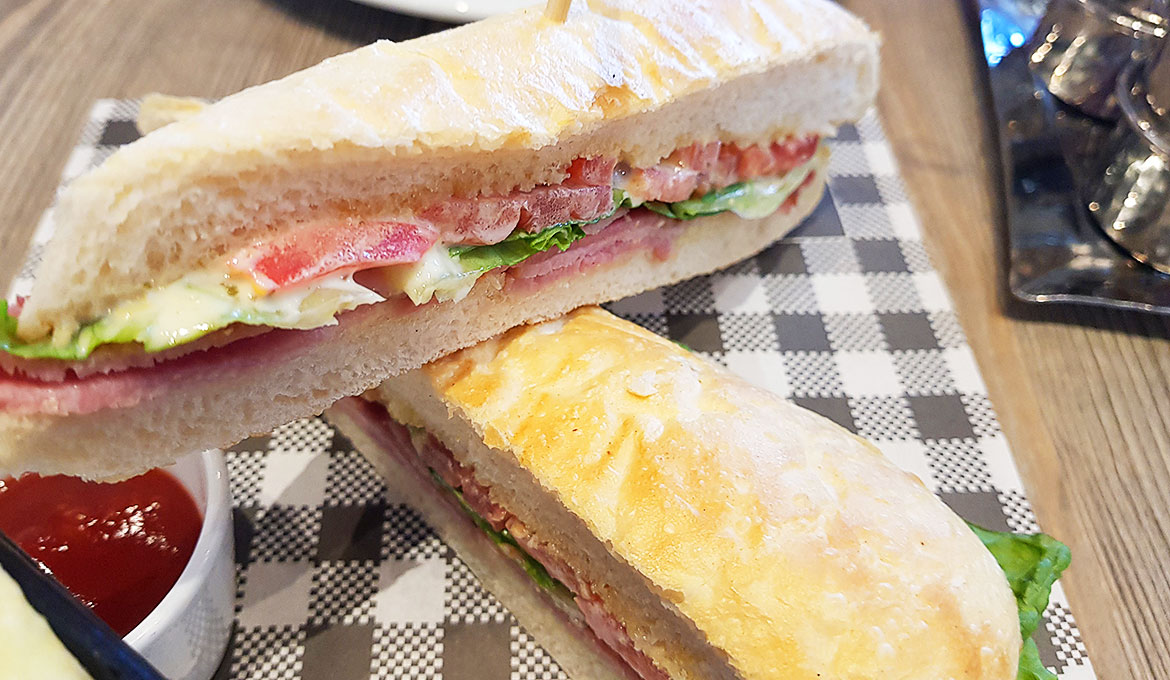 Well other than different location, the food and coffee here doesn't differ. Like I said, these guys are consistent, even across other major cities like Bangkok.
The only main difference with this place is that it sits out the front of a large shopping mall, although the traffic going through the shopping mall sometimes isn't much different to the main strip of Hua Hin (city center). It does have a nice outdoor deck which sits alongside a large pond (with the biggest pond fish I've ever seen) so you don't actually feel like your sitting inside a shopping mall.
If I'm going to a Coffee Club, it doesn't really matter which one I go to, the two here in Hua Hin are much same. My choice would be based on where I am or where I'm going and I'll choose the closer one.
Opening Hours: 7:00am – 9:00pm (Fri & Sat open until 10:00pm)
Address: 8/89 Soi Moo Baan Nongkae, Nongkae, Hua Hin, Prachuap Khiri Khan 77110
Starbucks
You know…I'm not a Starbucks fan – in fact the only time you'll see me in Starbuck is if I'm in desperate need of WiFi and this is the only place that is open – and in that case I'll probably order a water anyway just to get the WiFi password 🙂 This is a favourite for a lot of other people though, and they do open early here in Hua Hin, so it should be on the list – it could be a good stop for an early morning coffee or breakfast.
This one sits right out the front of one of the major shopping malls in Hua Hin (Market Village), and well – that's about all I can right about this one.
Opening Hours: 7:00am – 10:00pm
Address: 234/1, G/Fl Hua Hin Market Village, Hua Hin, Prachuap Khiri Khan 77110