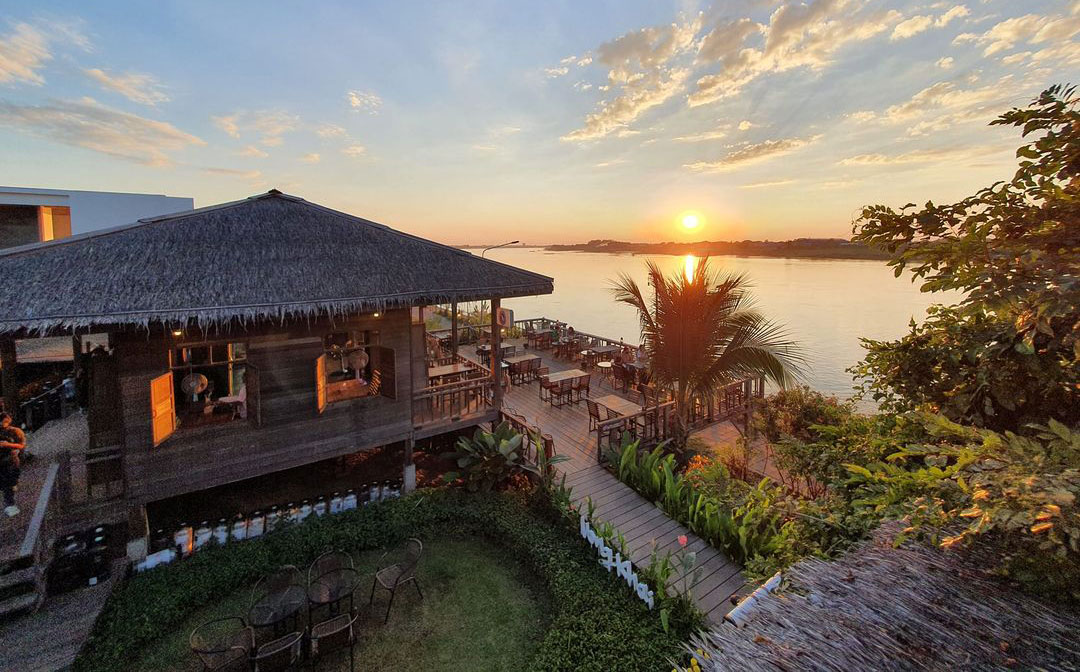 One of the best craft beer cafe's I've been to in Thailand!
It's not always easy finding a craft beer joint in Thailand (compared to back home in Australia anyway), but finding a craft beer cafe that offers such amazing views and amazing food to come with the beer….well that's very rare. Likhit beer offers exactly that.
Likhit Beer Cafe sits right alongside the Mekong river, a littler outside of the main Nong Khai town/city, so it's got a nice large space that seats over 60 people and no other building or construction blocking the view of the Mekong river. There's even a large main decking area that seats a good 30 people, which hangs out over the bank of the Mekong giving you an almost 180 degree view. It's a real favourite with locals and tourists, particularly around sunset, where you can watch the sun set over the Mekong river…and take in one incredible view! And while sipping back on a nice IPA…it makes it even nicer!
The place is divided into 3 main sections. The main deck area that hangs out on the bank of the Mekong and seats over 30 people, and is also part of the building where the main beer counter and beer taps are. This seems to be the most popular spot for guests as it's the deck with the 180 degree views, however during the day, it isn't so popular as it is NOT shaded and so it gets quite hot sitting under the sun. But come sunset…you probably want to get here a little early if you want this spot because it fills up pretty quick.
The second popular spot is to the right of the main building and also offers a deck hanging out over the Mekong, however this section probably only seats around 15 or so people and doesn't have the same 180 degree views as the main deck. This does however still have really nice views over the Mekong, and it also has a nice bench with a row of stools that sit facing out over the Mekong. This a favourite of mine because this area is shaded, so you can sit here comfortably in the middle of the day without getting fried, and you don't feel bad hogging up a table of four to yourself. If I'm popping down here for a late afternoon beer on my own, this is my preference.
The third section is an indoor section also to the right of the main building and sits just behind the other deck area I just mentioned. This is a popular spot during the day as it does have cooling (air conditioning) and is completely shaded.
So now to the important part….the BEER!
So they have a large selection of bottled beers, and then around 8 taps which change regularly, with each of the taps/beers listed on a chalk board above the taps for you to easily read. So if you find a favourite beer on tap, don't always expect to find it available when you come back next time (as it will probably have been replaced)! For me I prefer this, as I love trying a new beer, and in particular, a new IPA! They generally always have at least one IPA on the menu, sometimes up to three.
The prices for the beer are quite reasonable as well (when considering normal prices for craft beer in Thailand). For example a small glass will generally cost around 190 baht, and then the larger pint size glass will be around 380-400 baht.
If the chalk board and selection of tap beers overwhelms you, or you are simply just not sure what the hell it all means, ask them if you can try a few before ordering, as they will let you try each of the beers/ciders before ordering your glass.
They also offer paddles (which I've not yet tried) so you can get a smaller sized glass of all their beers which is a great option when visiting with friends who also enjoy craft beer.
Now to the food. One word – Expectional! I love my craft beer, but I would come here for the food alone as it's some of the best quality and prices I've seen in Nong Khai. I've tried a number of their food options / dishes here and not once have I been dissapointed. "Impressed" is the word I would use for most of their dishes as they have exeeded the quality and taste of most other places I've tried around Nong Khai. The prices for common dishes like Phad Krapow (stir fried basil with chicken/pork) etc. is around 100-120 Baht, which is a  pretty impressive price. When I arrived here and saw the comfortable seating areas and amazing views on offer…I would've expected a starting price 200 baht considering the quality of food and the rest this place has on offer. But this is Nong Khai, and so the prices here are going to be cheaper than what you're probably used to in other places around Thailand.
I could really go on and on about this place as I have rarely been so impressed with a place as I have with this one, but I won't 🙂 Best you come take a visit yourself if your visiting or even a local, I'm sure you won't be dissapointed.
Where are they located?
87 Moo 12, Yothathikan Road, Nong Khai 2017, Had Kham Subdistrict, Mueang Nong Khai District, Nong Khai 43000
Opening Hours
Everyday 10:00am – 11:00pm
Facebook Page
check out their facebook page here
What to Expect
Location -

10/10

Price -

10/10

Ambiance -

10/10

Quality -

10/10